PdS you drive better with us
PRECISION DRIVE SYSTEMS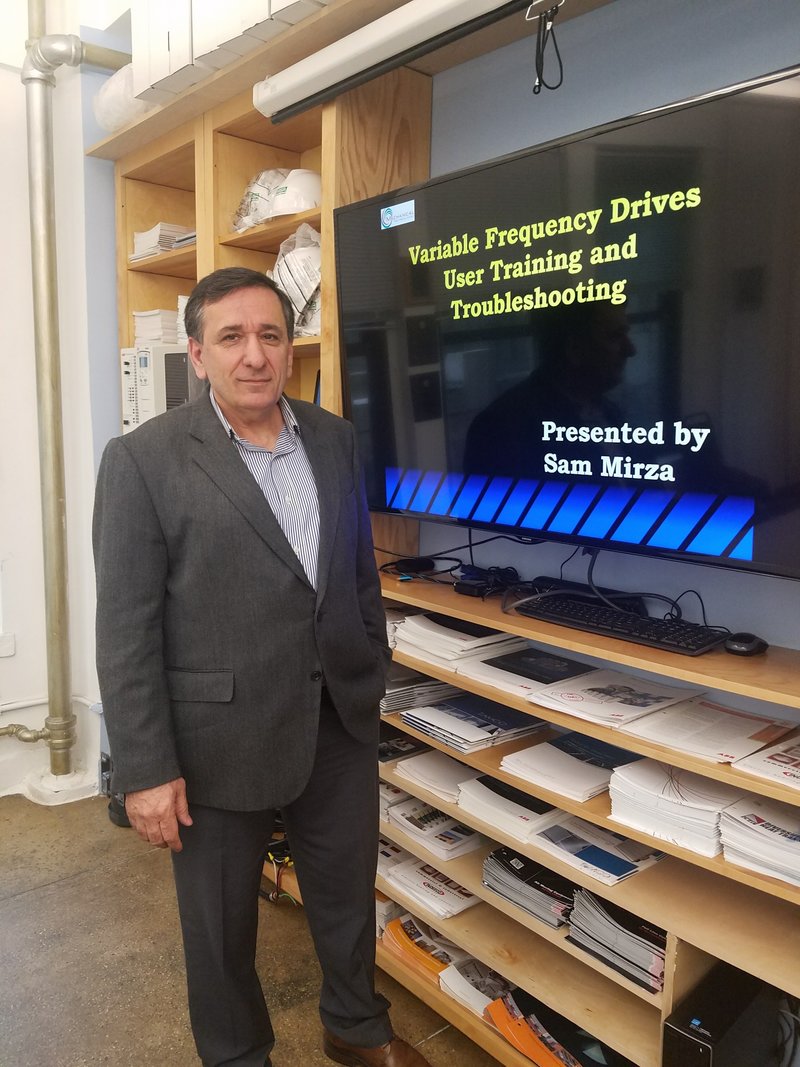 Seminar Overview
This hands on seminar introduces the student to world of variable frequency drives. Students will learn how to improve VFD control and efficiency, troubleshoot and fix VFDs, reduce equipment downtime, size a VFD for a specific application, eliminate chronic VFD problems, lower the cost of VFD operation, and alleviate the need for hiring costly outside service contractors, all while establishing a culture of safe work practices among employees.
This one day seminar is just $890 provided at customer location.
Discussion Topics
Variable Frequency Drive training focuses on the background and basics of using VFDs; where and how they are used in the workplace. The class discusses how VFDs can improve efficiency, safety and cost savings and discusses the various types of VFDs.
WHAT VFD's DO
Motion Control / Motor Speed

Air Flow / Liquid Flow / Pressure Control

Eliminates the need for:

Variable Transmission or Sheave

Variable Vanes or Dampers on Fans

Variable Valves on Pumps
BENEFITS OF USING A VFD
Energy Savings

Easier Maintenance

Enhanced System Monitoring
LOAD TYPES
Constant Torque – Conveyors, Positive Displacement Pumps, Extruders, Lathe Machines, Milling Machines,

Variable Torque – Centrifugal Fans or Pumps, Routers, Blowers, Fans
INSTALLATION OF A VFD
Environmental Concerns

Clearances

Conduit Entry
CUSTOMER CONNECTIONS
Start / Stop

Safety Circuit

Jog

Mentoring

Fault Indication

Remote Speed Reference

Monitoring of Motor Parameters
WIRING & GROUNDING VFD's
Induced Signals

Inductive, Capacitive

Incoming Power (line) Wiring

Motor (load) Wiring

Control Wiring

Proper Grounding Methods
CONTROLLING A VFD
Keypad Controls

Terminal Strip Control – Automatic, Manual

Bus Communication Control

Open Loop Control

Manual Operation

Automatic Operation

Sensorless Flux Vector

Closed Loop Control

PI Loop Configuration

Sensor or Transducer Feedback

Motor Shaft Encoder Feedback
VFD SETUP, PROGRAMMING and TROUBLESHOOTING
Language & Display

Control Modes

Open Loop, Closed Loop

Motor Data

Power (kW) and RPM

Voltage, FLA Current

Motor Speeds – Min, Max and Preset

Ramp Times

Speed Reference

Skip Frequencies

Limits for Alarms or Faults

Inputs / Outputs – Analog, Digital, and Relay

Application Functions

Reset

Sleep Mode

Switching Frequency

No Load

Phase Loss

Closed Loop Functions

PID Loop

Start-up Frequency

Integral Time / Differential Time

Proportional Gain / Differential Gain
Upcoming Dates and Locations
New Jersey
Fairfield Date: TBA Fall 2018 Register