PdS
you drive better with us
Precision Drive Systems
Precision Drive Systems (PdS) offers a verity of pressure transducer for pump, fans, blower and thermal applications. A pressure sensor of some kind is needed to sense the pressure in your water line and send a signal to the VFD controller. A signal is needed for the VFD to know if the pump needs to speed up, slow down, or go to sleep. Below are some of the transducer Precision Drive Systems (PdS) have been using series PT-200 for this types of applications.
Series PT-200 1% Industrial Pressure Transmitters are rugged, general purpose sensors that offer reliable and accurate measurements under harsh conditions. The sensor fitting is machined from a solid piece of 17-4PH SS to provide stable operation when subjected to shock and vibration.
-200s also incorporate digital compensation and temperature correction for high accuracy and stability.
0-100 PSIG range
PT-200-L1-100PSIG-E5-P0
0-250 PSIG range
PT-200-L1-250PSIG-E5-P0
0-500 PSIG range
PT-200-L1-500PSIG-E5-P0
If you are unable to find the proper transducer for your application, please give us a call.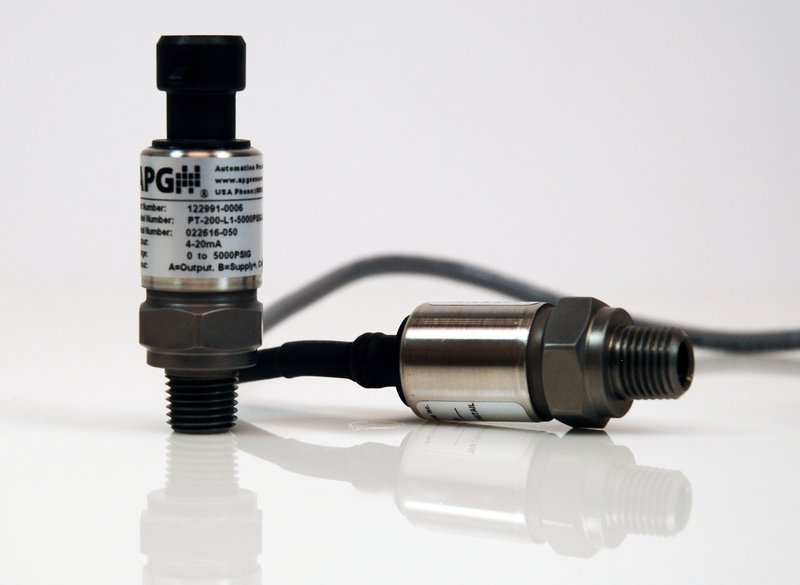 Features
Features of the series PT-200 include:

• 1% BSFL Accuracy
• 4-20 mA Output
• Compensated Temperature Range: 32° to 185° F (0° to 85° C)
• Wetted Materials: 17-4PH SS
• IP65 Rated Enclosure
• Cost effective
• High over-pressure capability
• Single piece stainless steel process fitting and sensor
Performance
• Accuracy 1% BSFL
• Stability - Thermal Shift Zero: ±0.01% FSO/°C (±0.02% FSO/°F) Span: ±0.02% FSO/°C (±0.04% FSO/°F)
• Stability - Long Term < ±0.5% FSO/year
• Over-pressure: 2x full scale • Burst pressure: 3.5x full scale
Electrical
• Supply Voltage: 9 - 32 VDC
• Loop Resistance: < 100 Ω
• Current Draw: < 30 mA Physical
• Wetted Materials: 17-4PH SS
• Process Connection: 1/4" - 18 Male NPT
Environmental
• Operating Temp: -10° to 100°C (14° to 212°F)
• Compensated Temp: 0° to 85°C (32° to 185°F)
• Storage Temp: -20 to 125°C (-4 to 257°F)
• Enclosure Protection: IP65
PID Control to maintain constant pressure using a FVD
AC inverters provides a series of user selectable, there are no languages to learn and the simple menus show only key parameters that need to be configured for you PID application.
In the example below the inverter is configured to maintain constant liquid pressure at 45.00 psi. The inverter will regulate its speed so that this desired pressure is achieved and maintained a pressure transducer.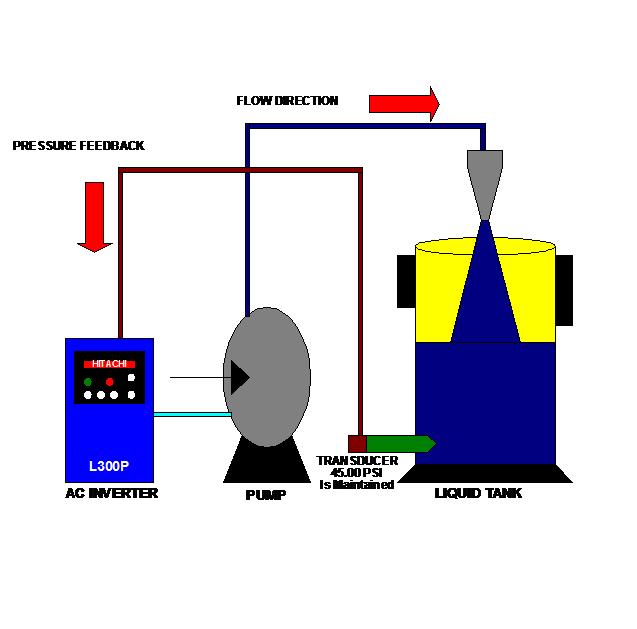 The VFD controls pressure, flow, temperature or other variable by monitoring transducer feedback.
Call us at
862-377-0573
to assist you and to select the proper transducer or PID for your application.